Thursday 12/30/99 - Big Trees
Big trees: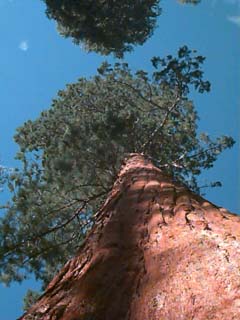 We followed the trail through the big trees, past grizzly which is a very giant sequoia. My picture of grizzly did not turn out too well, so I didn't waste page space with it. We followed a trail about 2.5 miles long up to the fallen tunnel tree.
The weather was warmer than it had been down in the valley on Wednesday, but it was still fairly chilly.
Fallen Tunnel Tree: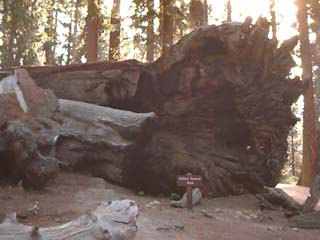 The tree above used to be a tunnel tree that you could drive through. It fell over in the 1960's though, and now it is hard to tell where the tunnel actually was.
Lori and Kristi: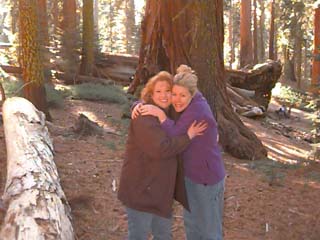 We ate lunch up above the fallen tunnel tree. In fact, you can see it behind Kristi and Lori in the background.
More Trees: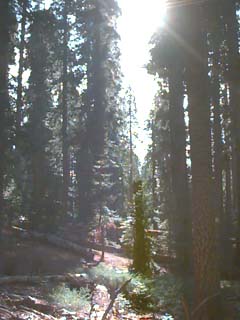 The sun finally came up after a while and tried to warm things up some, but not long after it arrived it started to duck behind the clouds again. The day was fairly cool throughout, but all in all it made for nice hiking weather.
Clothespin Tree: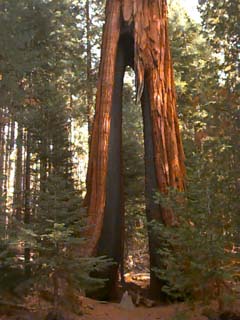 There was another cool tree that we passed on the way back from the fallen tunnel tree. This one is called the clothespin tree. You can probably tell why they call it that from the picture above. Just as we approached the tree we saw a couple of deer by its base.
Tooth Tree: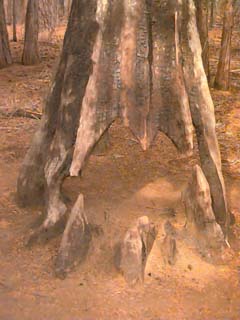 This was another cool tree stump that we walked past on the way back. I call it the tooth tree because it looks like it has teeth. It is a completely hollowed out stump with a mouth shaped hole on one side. Kind of cool.
Wawona Hotel: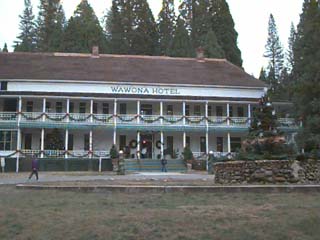 On the drive back to the condo from the big trees, we stopped in at the Wawona hotel to check on their Sunday brunch. We think we might stop their on our way home on Sunday.
A soothing Sunset: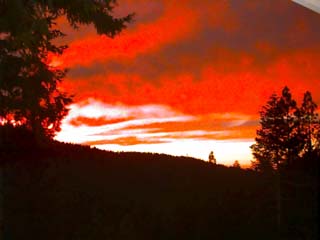 We made it back from our day trip to see a beautiful sunset from the back deck of the condo. Very pretty. The picture doesn't really do it justice.
We had made dinner reservations at the Ahwahnee for tonight. When it came to to get ready we decided we were all pretty exhausted from the day so we stayed in, made fajitas, and watched a movie instead.