Friday 12/31/99 - Ice Skating
The Condo: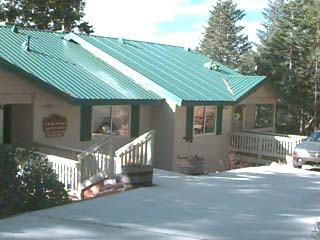 The condo we are staying in is actually a duplex. The owners live in the unit closest to you in the picture. We were in the second unit. You can see Kristi and Todd's car in front of it. The entire development has had some problems with their water starting last night and we have been asked to conserve as much as possible.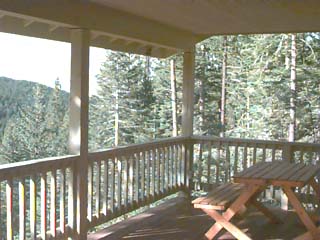 I took a picture of the sunset from here last night. They have a nice deck with a great view. This is the upper deck. We also have a deck outside the bedrooms down stairs.
Ice Skating: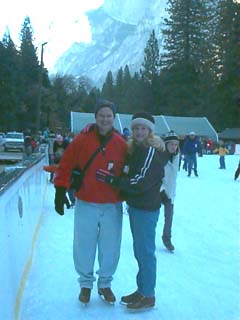 They have an outdoor skating rink at Camp Curry, and that was our destination for the day. Unfortunately, all of the pictures we took were with the sun behind us so I have had to wash these out a little to make it possible to see us. Anyhow, at least you can see who we are.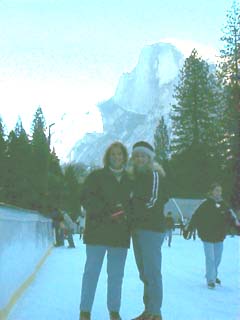 Told you I had to was these out a little. Sorry. I know these are all kind of posed, but it was hard to get action shots. I could barely stand up on the skates, let alone be an action photographer on them. I think Lori and Kristi were more comfortable on the skates to start with, but Todd and I caught up by the end. I don't think I will be entering any competitions soon though.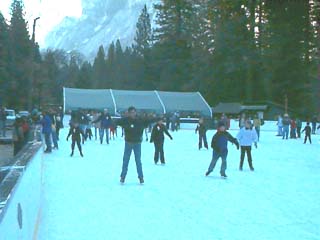 Here's Todd testing his wings. Like I said, we were able to skate around the rink fairly effectively by the time we were done. I was the only one to fall down out of the four of us, so all in all I think we did pretty good.
Lunch at the Ahwahnee: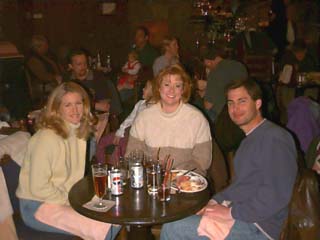 After a hard hour or so of skating we headed off to the Ahwahnee for lunch. We had hoped to eat in the big dining room, but they had closed early in preparation for their New Years Eve Ball. Instead we had a great buffet in the lounge. I think we all ate too much.
This is Lori and I in the large room at the Ahwahnee.
Valley Lookout: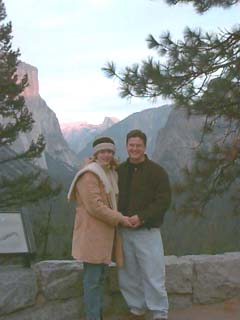 This is Lori and I at the lookout over the valley on the way home. Again it was a little too late in the day to be getting good sun, but we thought we would take a chance.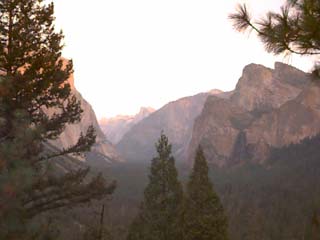 Thought I would put up one last look of the valley.
That about wraps it up for now.