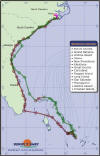 Click on Thumbnail for larger version
CRUISE #3
SUMMARY
Cruise #3 did nothing to diminish our enthusiasm for the life style. We had several ďgoalsĒ for this trip and made headway in most of them. These include sailing more and motoring less, snorkeling more, fishing more, spending more time on the hook and less time in marinas, getting to more & new locations, getting further south, and making more ocean passages.
We didnít do more SCUBA diving as we had hoped and fishing more does not mean we caught more. In fact, we were skunked in the big fish department. We caught and threw back Spanish mackerel, barracuda, a lizard fish, and one small tuna. We didnít get to the Acklins or Crooked Islands. Still it was a very successful trip.
We read 35 books each, played 150 games of Scrabble and 290 games of Gin, so it is obvious we didnít sail constantly. Much of the reading was during weather unfavorable for sailing or shore activities.
Of course, things on the boat fail or break on these trips. This yearís list includes the 110v generator, the wind generator, the water heater, and our old green screen gps/chart plotter. Additionally we lost a prop on the starboard engine during our trip north toward home. A non-boat item that failed was the external hard drive for our laptop computer. We lost a lot of our trip pictures when that happened. Luckily, many of the best of those pictures were published on the web as we went along so we still have some of them.
We covered 2600+ nautical miles over the bottom in 5 months and 6 days, met lots of other cruisers and scads of friendly Bahamians, participated in some Cruisers Regatta activities in George Town, visited new and many favorite places, and gained confidence in the boat and our ability to handle her.
We appreciated the interest of family and friends who tracked our progress on the internet. Special thanks go to Bret for developing the position reporting page, Lori for keeping our finances, our neighbors the Hickmans and Trubianos who took care of our house and yard in our absence, and the Pykes who flew to the Bahamas to spend time with us and hand carried medicine, boat parts, mail, and numerous other items to and from the U.S. for us.
We are unsure of our plans for the next cruise at this time. We may stay at home this winter and do some work on the boat. The dead lights all need to be re-bedded, we want to add dinghy davits to ease stowing the dink, and the engines, while still reliable, are getting tired and could use an overhaul. Add this to the list of failed items above and you can see there is a lot to do. Of course, we could say to heck with it, and cast off the lines when the weather gets cold. Itís nice to have the option.
If you want more detail, follow the report links below. Most of these are slightly edited versions of email reports Lynn sent to the family.
Fair Winds and Following Seas
George and Lynn Stateham