Saturday 01/01/00 - Tuolumne & High Country
Tenaya Lake: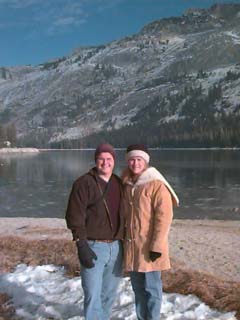 Tenaya Lake is completely frozen over. Here is Lori and I standing next to the edge. You can see the snow at our feet. You may notice some white chunks on the ice behind us. Those are ice pieces that people have thrown out onto the ice for fun.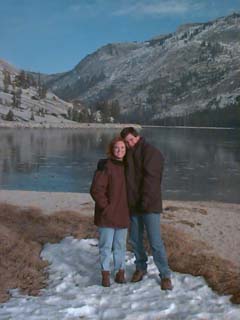 Here are Kristi and Todd at the same spot.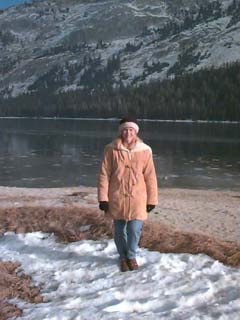 How about a shot of my beautiful wife.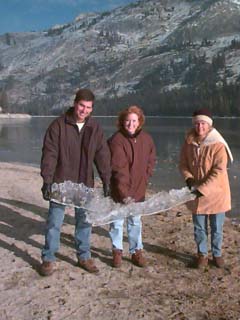 Here are Todd, Kristi and Lori all getting ready to toss their ice chunks onto the lake.
Get Ready....
Get Set....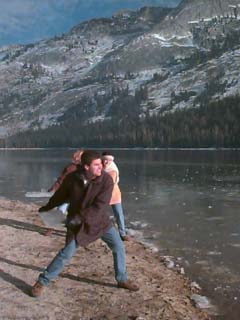 Toss!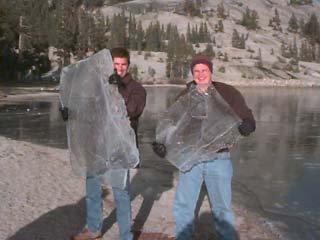 Of course, the guys had to go macho and get the big pieces of ice.
Frozen River: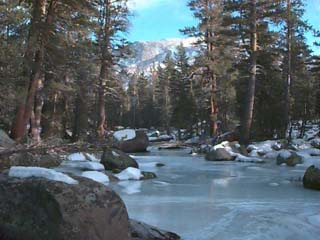 After leaving Tenaya Lake, we drove up the 120 through the park. We noticed that the river that runs along the river was frozen over. Very cool.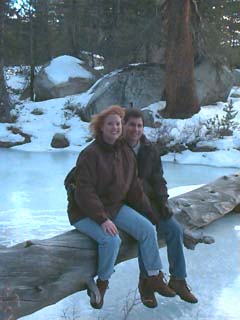 Here are Kristi and Todd sitting on a log that crosses the frozen river.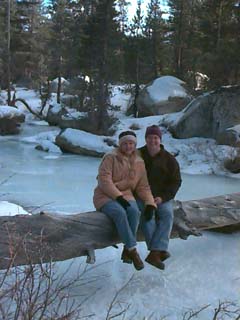 Here are Lori and Bret on the same log.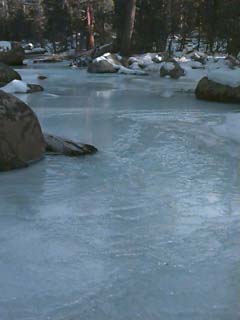 It may be hard to tell in the picture above but the river was actually frozen in layers. It started high, and then terraced down.
Tuolumne Meadow: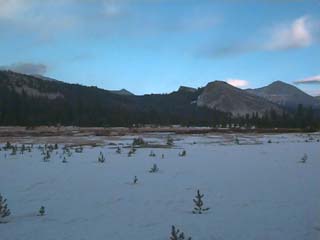 On the way back, we stopped at Tuolumne Meadow to get a shot of the snow.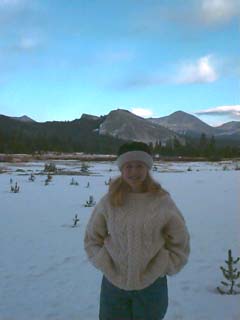 This isn't the best lighting, but here is Lori at Tuolumne Meadow.
Let it snow, let it snow, let it snow: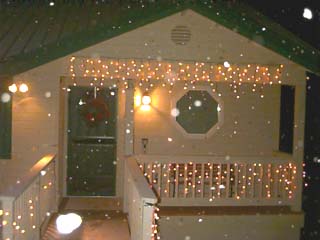 During the drive back to the condo, the weather turned on us. It got very dark and cloudy. The clouds were at ground level, and the visibility was very low. Before we made it back to the valley, it was snowing. We stopped in at the Village Store in the valley to get a few extra vegetables for dinner, and it was hailing there. Once back at the condo though, it was a light fluffy snow. This is a picture of our unit with the snow coming down. At the time of this writing it has already stopped snowing, but it was nice to get a little snow while we were here.